Automatic Safedown Auto Belay System : our rock climbing wall equipment
The Safedown Auto Belay was created specially for leisure and climbing markets to allow a controlled descent.
This elegant and innovative security system which is lightest in it's category weighing only 12kg can be easily attached above your rock climbing wall, your path or your mobile climbing wall.
The Dyneema base cords with triple action DMM security slings can be modified on by your own staff eliminating the need for withdrawal of the machine.
With a yearly maintenance and low cost of parts owning this system is very cost friendly. Our local service center will considerably lower your downtime.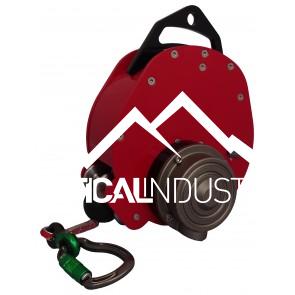 RODEOPLUS – Belay system with integrated fall prevention
Automatic belay system.
Standard use: one climber and one supervisor.
Attachment at the top of the path.
Being easy to use it is appropriate for new and young climbers.
Has an integrated breaking system that blocks automatically (fall prevention).
It eliminates risks occurring due to human error (false maneuvers, supervisors lack of attention…)
Doesn't require a harness for the supervisor.
If you are looking for a rock climbing wall equipment, don't hesitate to contact us !